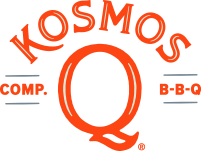 BBQ brings people together no matter the weather. Kosmo's Q started as a passion project to encourage people to spend more time with friends and family.
We sold our first product, The Original Beef Brisket, Injection out of a linen cabinet. Today we ship over 30 different products to grill masters and fans around the world. We have nearly doubled in size over the last year after our products brought home the 2015 World Steak Championship and the 2015 World BBQ Championship.
Darian, call him Kosmo, formed Kosmo's Q in 2009, and his products have become the staple among competition BBQ masters all over the world. Kosmo's wife is a children's pastor with Life Church, he has a son currently attending the University of Oklahoma, and two teenage daughters. Born and raised in El Reno, Oklahoma, he has spent most of his life working in the pits. At the young age of 13, Kosmo started at his first industry job at Wilds Fish Farm, where he brined chicken, sliced brisket, rubbed ribs, and smoked chicken and turkey. In 2003 he entered his first BBQ competition, using store bought products and tweaking them to his own high standards.
Based out of Tuttle, Oklahoma, Kosmo's Q seeks to be the staple of every backyard and kitchen grill master. Already selling our products in the UK, Switzerland, and all across the United States, we are constantly expanding our product line with brilliant new spice mixes, sauces, and injections. Can you imagine over 10 thousand pounds of spices? No? With our specialized blending techniques in our state of the art packaging facility, we ship around that many spices alone in a single month. Every product developed by industry leader Kosmo's Q goes through vigorous testing; if it is not good enough for us at Kosmo's Q, it's not good enough for you.
It pays to choose Kosmo's Q products. Kosmo's Q has won multiple grand & reserve grand championships in the very competitive world of BBQ, and has received invites to the American Royal, Jack Daniels World Cook-Off, and the Chest-to-Chest world Brisket Cook-Off. Kosmo's Q attends over 30 competitions every year, caters private events on the infield of NASCAR's Texas Motor Speedway twice a year, and even held the 2nd best food truck in the nation for a year and a half.
#ITJUSTWINS
Everyone wishes that they could have competition, award winning,
barbecue at each of their backyard barbecues parties. 
With Kosmo BBQ, that's exactly what you'll have every time.
Products